Online shopping trends show surge in return to work and school
After nearly 18 months of adults and students being largely based at home, September 2021 clearly represents a major shift back to in-person attendance at both school and work. Noogata, a global leader in no-code artificial intelligence (AI) data analytics is seeing significant spikes in related searches on major eCommerce and search platforms, as well as via related activity on social networks. This is particularly true in the United States.
By analyzing search data from online shopping platforms, it's clear not only that families are returning to external places of work and study, but that some shopping themes and brands are dominant. In addition, there are increasingly shifts in these vs. previous years with long-standing products being edged out by newer, eCommerce focused brands.
This can be seen, for example, with longstanding providers of paper notebooks such as Mead and Five Star seeing new entrant Amazon Basics encroaching on their market online. Amazon Basics' share of notebook sales more than tripled in 2021 vs. 2020, while traditional sellers saw their share of sales plummet almost 40%.
Search findings that demonstrate a clear return to in-person work and study include:
A huge spike in searches for new backpacks, peaking in mid-August with a 9x increase from last year's average. Jansport led the way bot

h in brand recognition – capturing close to 100% of branded searches and consumer clicks, with Matein close behind.

Typical spend ranged between $35-60, with the average backpack costing approximately $40.




A surge in lunch box searches in July and August, increasing 3x vs. annual searches. Social media influence is obvious with TikTok-inspired items like Bentgo

– the Bento-style kid lunch box – dominating back-to-school shopping searches, with almost 10% of search volume, and dominating all three of the top three clicked on products. This theme continues for adults, with searches for adult-sized lunch boxes and bags in July and August surging by more than 2x. Buringer, Lifewit and Baloray lead the way in this highly competitive category.




Demand for briefcases for women also increased dramatically, with searches going up almost threefold vs. the average for the previous year. Here too the competition was intense for actual purchases, but Nubily's laptop bag ($39.99) emerged as the winner, followed by Matein ($44.99), with Bagsmart closing the top-3 list with a substantially cheaper offering at $23.99.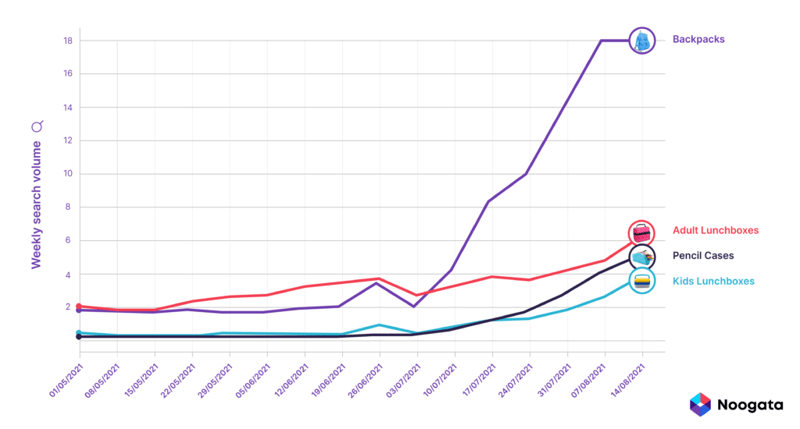 According to Assaf Egozi, Co-Founder and CEO, Noogata, "Having this data, and being able to extract insights of this sort is absolutely crucial to understanding eCommerce trends for CPGs and retailers, particularly in terms of product development, positioning and inventory planning. We can already see that the shift to eCommerce is proving challenging for many leading brands and that white-label or smaller brands are taking advantage of eCommerce opportunities. AI is hugely powerful here, offering immediate visibility into complex data and actionable insights that drive better product, sales, and pricing decisions."